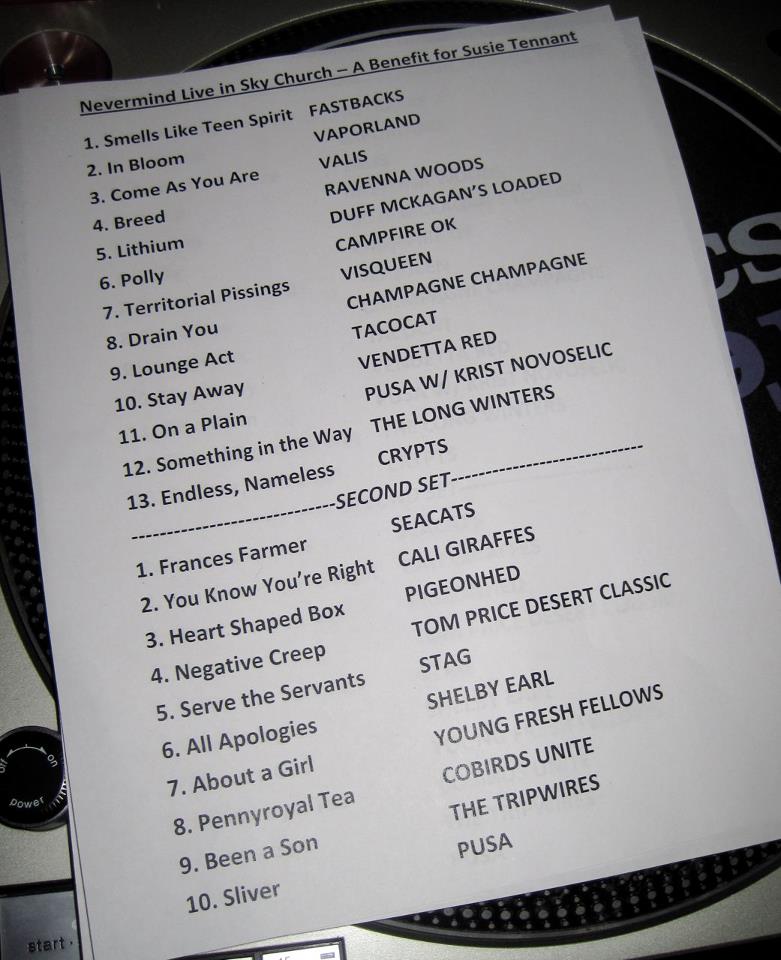 Some more posts about the Nirvana 20 show the other night.
Here's one from Deano In America.
"And for the ultimate rock and roll moment the lead singer of Stag accidentally cut above his eye when swinging the microphone stand around, blood was all over his face and the floor, but he kept on playing!"
Nevermind Live: 20th Anniversary Concert
Posted: September 22, 2011 by Deano in Celebrity, Museum, Music, Pop Culture, Travel
Tags: Dave Grohl, Duff McKagen, EMP, Krist Novoselic, Kurt Cobain, Music, Nevermind, Nirvana, Rock Concert, Susie Tennant, The Fastbacks, The Presidents of the United States
Rate This
September 20th, 2011
Nevermind Live
The Experience Music Project (EMP) Sky Lounge in Seattle was the venue for a sold out tribute concert for the 20th anniversary of the release of Nirvana's classic 1991 album Nevermind. I was lucky enough to have managed to get a ticket the day it went on sale. Over 20 Seattle bands performed all the songs from the album plus other Nirvana favourites (many great acts from the Seattle music scene of the 1980/90′s who were friends of Kurt Cobain and the band performed along with a number of up and coming bands).
Apart from being a tribute to Nirvana (Kurt Cobain, Krist Novoselic and Dave Grohl), the show was also a benefit gig for Susie Bennett who is currently battling cancer. She was Nirvana's promotions person, a friend of Kurt Cobain and has been very influential on the Seattle music scene for many years.
The concert went for about 4 hours and was streamed live over the web. Some bands more or less did a straight cover of each song, others did their own unique take on them. Due to so many bands playing only one song, there were some awkward delays between songs as equipment etc was changed over, but overall the show went pretty well and was a lot of fun.
It was an all ages gig so there were kids standing side by side with people aged 30+ who were first blown away by the whole Seattle grunge sound of the 1990′s. It is great to see that the music is still so popular today.
Highlights
The energetic opening performance of "Smells Like Teen Spirit" by The Fastbacks who are veterans of the punk scene was a great start to the show. Before they started to play guitarist Kurt Blochand said "Twenty years later, who wouldn't want to play this song?" That classic opening guitar riff got the crowd going straight away, although it wasn't Nirvana it was great to hear (the bass player Kim Warnick once shared an apartment with Susie Tennant and Kurt Cobain used to crash at their place)!
Duff McKagens Loaded performed "Lithium" and gave a nice tribute to Susie Tennant, but he admitted he was nervous and couldnt remember all the words to the song, so he asked the crowd to sing along. We did so (loudly) and the atmosphere was awesome! His rock star presence really got the crowd going. His appearance was kind of ironic as Kurt Cobain hated the band that Duff was in at the time: Guns N Roses! Duff was also one of the last people to talk to Kurt before he committed suicide in 1994 (they were sitting next to each other on an airliner a few days before).
The Presidents of the United States performed a spirited version of "On A Plain" with Krist Novoselic on bass, who before the song spoke to the crowd thanking us for caring about Nirvana and Susie Tennant and asked that we give a huge cheer to Kurt Cobain. The noise we made was fantastic and Krist was visibly moved by the moment and said "I want to take in that cheer" and "I could have said a lot of things about Kurt, but I think you just said it all."
Presidents lead singer Chris Ballew stage dived and crowd surfed without missing a word of the song! Excellent! They returned with another spirited performance to end the show with "Sliver" and Susie Tennant briefly appeared during this song to do a quick dance on stage with the band.
I missed out on seeing Nirvana when they toured Australia in 1992 (a major regret…if only I was able to know that 2 years later all would end for the band) so to finally see Krist play was fantastic and to meet him in person after the show was awesome! He was very thankful to all for attending the show, and said the same to me when I shook his hand. He kindly autographed my ticket (even though he told me he normally doesn't do this because everyone will want him to sign stuff afterwards). Thanks Krist, much appreciated!
Dave Grohl could not attend the event as The Foo Fighters were performing a concert somewhere on the East Coast of the US, but he did send a video message that was played during the show. He had a similar message to Krist and shared a funny story how he and Kurt smashed a gold record award for a Guns N Roses album owned by Susie Tennant. It was a shame he couldn't attend in person but the message was a nice touch (I have seen him perform in The Foo Fighters and Them Crooked Vultures in the past and both were great performances).
Upcoming band Ravenna Woods played a very energetic sped up version of "Breed" that went down very well. And for the ultimate rock and roll moment the lead singer of Stag accidentally cut above his eye when swinging the microphone stand around, blood was all over his face and the floor, but he kept on playing! Other "old school" bands included Valis (formerly the Screaming Trees) and Tom Price Desert Classic (Tom was the lead singer of 80′s post punk band the U-Men that Kurt Cobain apparently grew up admiring). It was great that many of the performers were contemporaries and friends who heavily influenced Nirvana in their early days.
And now for the lowlights!
Most of the performances worked, but there were 2 that really didn't!
The Crypts an electronic act were like watching a train wreck; terrible but you couldn't take your eyes off them! The lead singer (?) tried to channel Kurt Cobain but was basically just ridiculous and embarrassing in the end. He was smashing equipment, pretending to masturbate on stage, spitting on his band members, all the while singing (?) a terrible rendition of the track "Endless, Nameless" (this may have worked in another setting, but this was a tribute show, not some self-glorification session). Yes Nirvana often did something similar in concerts while playing this song, but it just didn't work here. Ultimately half the crowd were furious, and the rest really didn't know what was happening!
I think when the lead singer started smashing a guitar and a microphone stand he actually hit some kids in the front of the crowd (concerned EMP staff were talking to them after the "performance"). In the end the band were apparently asked to leave the venue and were escorted out by security (for their safety? Or just because they were crap?). The worst thing is that they took for ever to set their equipment up, ultimately a total waste of time. I like the weird and wonderful, but this really was a terrible performance that should never have been allowed on this bill. Nirvana were thrown out of their Nevermind record launch party (organised by Susie Tennant) for starting a food fight, but these guys are NOT Nirvana….oh well nevermind!
The other act that didn't really go down too well was Champagne Champagne a Hip Hop act. Their version of "Drain You" was forgettable. They rapped some sections, which could have worked out well, but they seemed to be more interested in self promotion than paying tribute to Nirvana. The crowd was glad when they finally finished their song!
Regardless of this, the show was a great night and I was glad that I could take part in a bit of music history. This coming saturday will be another fitting way to celebrate 20 years of Nevermind; I will be attending the EMP world premiere screening of the 1991 Halloween concert Nirvana : Live at the Paramount (a famous theatre in Seattle, the concert was held 5 weeks after Nevermind was released and was a homecoming show for the band). This is the first time the concert has ever been shown in full (a DVD is going to be released around the same time).